---






---

Real Wood Cabinet Refacing by Homecraft
It's Beautiful, It's Afforable...Add new beauty and life to your kitchen
Call (661) 252-9663 and see how much you can save
when Homecraft refaces your cabinets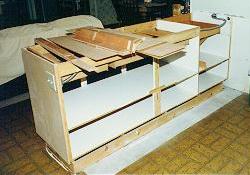 THE KITCHEN - The heart of your home should be beautiful as well as functional. Unfortunately, to replace kitchen cabinets just for beauty's sake is a very expensive, time-consuming and inconvenient proposition. Not only are the cabinets involved but so are the countertops, floor replacement, plumbing, and in most cases, plumbing fixtures.
There is an alternative to the costly, messy job of kitchen cabinet replacement with no need to tear out the countertops, remove sinks, replace the floor and plumbing, yet allows you to use your kitchen (in a moderate manner) during the work of KITCHEN CABINET REFACING.
Kitchen cabinet refacing using real wood offers you a beautiful, fast, efficient cost saving alternative to new cabinet replacement. Refacing with real wood is done expertly, professionally and neatly by Homecraft Custom Cabinet and Refacing Co, Santa Clarita, CA. Their methods resemble new cabinets without the expense, frustration and inconvenience of remodeling. The Refacing is done by removing all cabinet doors, drawers and mouldings - leaving the cabinet frames and sides totally exposed. Using only the highest quality materials, outside surfaces are totally covered. Wood strips and panels are installed horizontally and vertically on the cabinet fronts, sides and underneath to simulate new cabinetry! Outside vertical corners are done in such a way as to make the ends of the wood invisible, yet, from all visual appearance, Refacing gives you the total look of new cabinetry! You may select from over 100 styles of door and drawer fronts from traditional to contemporary. Select from our wide selection of woods as well! New door hinges and mouldings are installed and toe kick panels are installed. The wood is then sanded, sealed and finished. Choose from a host of upgrades! Concealed hinges, new drawers on easy roller glides, face frame edge resurfacing, base cabinet rollout trays and other items exclusive to your needs!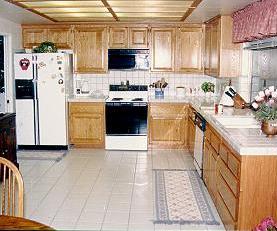 More advantages of kitchen cabinet Refacing include total appearance of new cabinetry while enjoying a SAVINGS OF THOUSANDS OF DOLLARS OVER NEW CABINETS!!! Convenience: Homecraft can reface your cabinets QUICKLY & EFFICIENTLY in about 3-1/2 to 4-1/2 days. Precutting materials, finishing doors and drawer fronts and other materials away from your home means LESS MESS and time spent in your home! Reliable real estate sources say that when a kitchen is properly and professionally refaced your investment is returned because your kitchen is appraised as an upgrade, benefiting you with an immediate investment return and equity builder. In addition to having your cabinets refaced, Homecraft can build you additional cabinetry throughout your home. Add a beautiful custom-built island or peninsula! Let Homecraft be YOUR SOURCE FOR ALL YOUR KITCHEN CABINETRY.

You are invited to visit our showroom. See our display of hardware, products and services.
for more information or estimates, call
(661) 252-9663
Main Office
26858 Ruether Ave, Suite F
Santa Clarita, CA. 91351

OPEN 5 DAYS Monday - Friday by appointment,
Saturday and evening appointments for your convenience
State Licensed - Locally Owned - Established


State License #759726


To report problems or send comments regarding this site please contact